"…the Lord make his face shine on you and be gracious to you; the Lord turn his face toward you and give you peace"—Numbers 6:25-26 (NIV).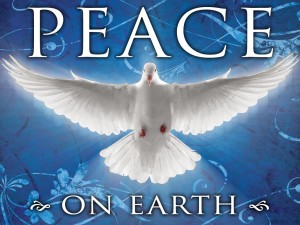 Songs, both traditional and contemporary, are one of my treasured things about the Christmas season. I have so many favorites it's hard to choose just one. However, one that is resonating with me right now is "Let there be Peace on Earth."
Penned in 1955 by Jill Jackson Miller and Sy Miller, the song was composed to reflect the feelings of Jill, who had been suicidal after the failure of a marriage. Jill said the song was written after she discovered what she called the "life-saving joy of God's peace and unconditional love."
According to my research, in the summer of 1955, 180 teenagers of all races and religions, who were at a workshop in the California mountains, locked arms, formed a circle and sang this song of peace. Hoping to help create a climate for world peace and understanding, the group embraced the simple but powerful lyrics. When they left the mountain, the inspired young people started sharing the song which made its way around the world as young campers took it back to their schools, churches and clubs. It has been sung all over the world since it was first sung almost 60 years ago.
Here are the first lines of this beautiful song:
Let there be peace on earth
And let it begin with me.
Let there be peace on earth
The peace that was meant to be.
With God as our father
Brothers all are we.
Let me walk with my brother
In perfect harmony.