"O give thanks to the Lord, for he is good, for his steadfast love endures forever"—Psalm 136:1(NRSV).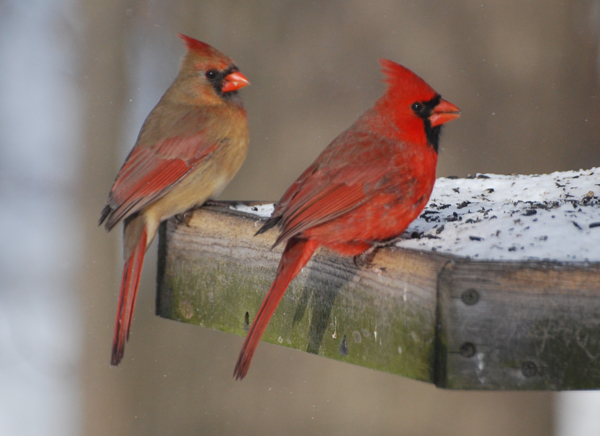 http://www.wildbirdhabitatstore.com
On a recent overcast day, the cold had driven the birds to my suet feeders. The feeders are located outside my kitchen window, offering me a great view of the variety of birds dining on the peanut butter laden treats. When we have an extremely cold winter, I have to refill the feeders more often. With this year's milder weather, I've not had to do so. The usual visitors are shades of brown and gray.
On this particular day, several cardinals showed up to eat their share. I marveled at their red beauty and by the contrast they provided to the dull winter colors of the bare trees and dead grass. While the drabness of winter doesn't bother me, the unexpected appearance of these creatures brought hope to my weary soul. Overwhelmed, all I could say was, "Thank you, God, for sharing your love today."
What does love look like?
If we would only open our eyes, we could see a glimpse of God's love everywhere, every day. I am reminded of this when I see an elderly person struggling to open a door and, before I can respond, a teenager rushes to pull it open. I always smile because it's a reminder of His love.
Isaiah 46:4 says, "Even to your old age and gray hairs I am he, I am he who will sustain you. I have made you and I will carry you; I will sustain you and I will rescue you." That's love.