"Enter his gates with thanksgiving and his courts with praise; give thanks to him and praise his name"–Psalm 100:4
During the month of November, many of you have taken the 30-day challenge to share those things and people for which you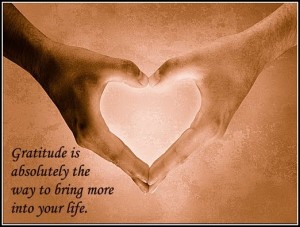 are grateful. I wanted to participate but didn't have the time to write them down each day. However, since we had our family dinner on the Saturday prior to Thanksgiving Day, I decided to spend today reflecting on those things for which I am grateful. In no particular order, the following is my 30-Day Gratitude List:
1.     I am grateful that Jesus didn't give up on me after I drifted away. In the fall of 2001, He claimed my heart. Thank you my Savior & Lord.
2.     I am grateful for my sons, Casey & Clint, as well as my five beautiful and talented grandchildren. Who knew grandkids could be so much fun!
3.     I am grateful for my church family at Claremore First United Methodist Church. We have such a giving congregation. They are amazing!
4.     I am grateful for good health! In my 60 years, I've had eight surgeries…yes, 8. However, my doctor says for someone who has had as many surgeries as I've had, I am in excellent health. Just praying I don't lose any more body parts and I am an 11-year cancer survivor!
5.     I am grateful that God is allowing me to use my love of writing for HIS glory.