"For the Son of Man came to seek and to save the lost" Luke 19:10 (NIV).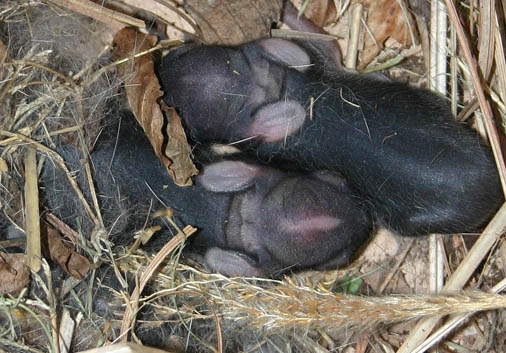 I've always had a heart for the lost, especially animals. I was the one who brought home stray "anything" when I was a child, no matter the size, color, number of legs, fur-less or not. If it had been abandoned, I brought it home. However, I was never successful at raising wild animals, but that didn't stop me from trying.
I've tried to raise baby birds and baby rabbits as well as farm animals, including calves and piglets. My only success was with an orphaned piglet, which we named Trouble. I raised him on a baby bottle after his mother failed to produce any milk and another sow refused to take the offspring of another.
Recently, I was faced with a dilemma concerning seven baby rabbits my dog had discovered in my fenced backyard.  Taco would not stay away from the nest, which was hidden beneath a large ornamental grass next to my backyard swing. I fretted about Taco's killing them or scaring the mother away from her feeding ritual.
I called several area veterinarians and wild animal rescue groups but did not receive any words of encouragement. I could have forbidden my dog the run of his own backyard but he was driving me crazy with his constant whining to go outside. He knew what was hidden beneath the tall swaying grass and he wanted to investigate. However, I was afraid he would eventually eat the tiny creatures.
I didn't have time to be a foster mother and the odds of the babies surviving were not good. However, I couldn't stand to see them die without a chance. When a friend suggested I gather up the nest with the babies inside and place it outside my yard fence, I decided I had to try. I placed the nest, babies intact, inside a shoe box to transport them. After moving them, I began to worry that they might need some protection from the elements. I visited my local Lowe's store and purchased two small ornamental grasses at 5.98 each plus tax. Returning home, I planted them right next to the rabbit's new home. Then, I prayed that the mother would find them to provide sustenance for their little bodies.
Later that evening, my next-door neighbor, who was as concerned about these small animals as I was, called to say, "Carol, it's going to storm tonight. I'm worried about those baby rabbits."
I told her that I had prayed over them and hoped that their mother would find the transplanted nest. After I hung up, my heart for saving the world wouldn't let me rest. I walked into the garage looking around for something to protect those precious little creatures. I began thinking…create a lean-to so that the mother, if she returns, can still get to them.
I couldn't find anything in my garage to facilitate my plans but for some reason, the word "cookie sheet" popped into my mind. Even though I knew the chances of their survival was almost nil, I had to try. I called my neighbor back~it was already dark outside~and said, "Okay, your call prompted me to try something else to save those babies. I need your help holding the flashlight."
At 8:30 p.m., two women, one in her late 50s and the other who is 70, walked through the tall grass behind my house and constructed a lean-to using a metal cookie sheet, a piece of wire, a nail and some duct tape.  There was no evidence that the mother rabbit had found the nest but I still had hope. I had done my part, even if it sounds crazy to some.
The next day, when I checked in on the nursery, I could still see no evidence of the mother's presence. I tried not to worry. Later that evening, I found five of the rabbits dead and the other two were almost dead. My heart was sad but I knew I had done all I could do.
When I think about our human efforts to save ourselves from trouble, I am reminded that there is only ONE who can accomplish that and He is our Savior. Have you accepted His saving grace?