"I will give you a new heart and put a new spirit in you; I will remove from you your heart of stone and give you a heart of flesh"–Ezekiel 36:26(NIV)
If you go to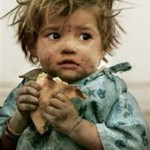 bed each night with your belly full, then you are blessed. According to a recent article, "Hungry in America," the long U.S. economic down cycle and high unemployment rates have impoverished millions of families in our country. I was astonished when I read the following facts in the article about hunger in this nation: Of the 25 richest industrialized nations, the U.S. has the highest childhood poverty rate second only to Mexico. In our country, 39.5 million people live in poverty, a number equal to Canada's entire population.
Almost 15 percent of U.S. households or 17.4 million American families are now "food insecure," an almost 30 percent increase since 2006. This means that during any given month, they will be out of money and food, and will be forced to miss meals or seek assistance to feed themselves, according to a 2010 report from the U.S. Department of Agriculture.
 The report also cited the three most common reasons people fall into situational poverty:  illness, divorce and job loss. Maybe you fall into one or more of these categories or maybe you know someone who has. If you haven't, maybe you've heard the expression, "There but for the grace of God go I."
 While we can blame others for the state of our economy, including our political system, each one of us must examine our hearts and take responsibility for our choices. Our first choice is to seek God. Pride can keep us from admitting our part in the failure of society to recognize human needs.
 Recently, I saw the following posted on Facebook: "People were created to be loved. Things were created to be used. The reason the world is in chaos is because things are being loved and people are being used."
Whoever wrote this has it right. I call it spiritual poverty. According to authors Dr. Henry Cloud and Dr. John Townsend, "Whether or not we have problems or struggles in life, we still need God and we need to know we are in the process of finding him. The Bible teaches that all of us (not just some of us) are in this state. Every person needs God' s grace and mercy. By our very nature, we are broken people with no hope except for God."
In a fallen world, we often forget God's grace. We allow the media, political rhetoric and a lack of faith to harden our hearts. Ezekiel 36:26 tells us that God will give us a new heart and put a new spirit in us. He will remove our hearts of stone and give us a heart of flesh.
Physical hunger in our country is a problem; however, the greatest need is a hunger for more of God. When we seek to fill our hearts and spirit with Him, we will be moved to help provide for the physical needs of others.
 Email your comments to the author at carolaround@yahoo.com.