"The Lord will guide you always; he will satisfy your needs in a sun-scorched land and will strengthen your frame. You will be like a well-watered garden,like a spring whose waters never fail"—Isaiah 58:11(NIV).
Halfway between Indiana and New Mexico, their car broke down in Claremore. Stranded and homeless, the family was referred to our church by someone in the community. After the family received the financial assistance needed to board a bus and continue on their journey, the mother asked our pastor, "Why do you do this?"
Pastor Ray replied, "Because God has been good to us and in turn we can bless others."
Sharing this story in a recent sermon, our pastor said no one had ever asked him why we do the things we do to help others. A follow-up phone call from the young woman's grandmother revealed her gratefulness. She said, "Without the help of your church, I don't know what they would have done."
What a witness to God's glory! Being a witness to others means we must also reach outside the walls of the church building. While it's important to plant seeds inside the church, it is just as important to leave the confines of our comfortable pews and stretch out our hands to a hurting world.
A recent newspaper article about actor Ving Rhames grabbed my attention because of the headline which mentioned "a career guided by faith." When asked who had played an influential role in his life, the actor credited his mother as being a positive model. However, Rhames also revealed that his faith had steered him in a business usually not known for its high moral standards.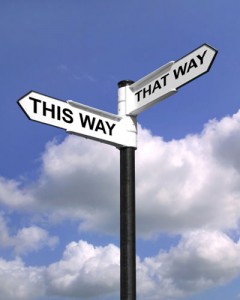 "I allow God to guide me," he says. "In some ways, I don't make choices. I try to stay out of God's way. God has always provided for me, always had His hand on my life. I knew that at a very young age. My thing is to let go and let God. God knows what is better for me than I do."
Also known for sharing his faith, NFL quarterback Tim Tebow, says, "People often seem to think that when you're following the Lord and trying to do His will, your path will always be clear, the decisions smooth and easy, and life will be lived happily ever after and all that. Sometimes that may be true, but I've found that more often, it's not. When it comes to making our decisions, the key that God is concerned with is that we are trusting and seeking Him. God's desire is for us to align our lives with His Word and His will."
When a friend shared the Bible verse that guides his life, I copied it down and posted it on my refrigerator as a daily reminder. Isaiah 48:17 says, "This is what the Lord says—your Redeemer, the Holy One of Israel: 'I am the Lord your God, who teaches you what is best for you, who directs you in the way you should go.'"
Where is God directing your life?
Share your thoughts with me at the link below. I always love hearing from my readers.