Jesus said to her, "I am the resurrection and the life. The one who believes in me will live, even though they die; and whoever lives by believing in me will never die. Do you believe this?"—John 11:25-26 (NIV).
"It's a big pat on the back for our understanding of the universe." These words came last week from a physicist, commenting on the news from the European Space Agency's discovery of the split-second that occurred after the Big Bang. Believing our universe burst in the blink of a second from subatomic size to its now visible expanse, the think tank was celebrating what they believe as evidence of how the world began.
"What a wonderful triumph of the mathematical approach to describing nature," said another physicist, who was not a part of this new research. "It's an amazing story of discovery."
Another amazing story begins with these words: "In the beginning God created the heavens and the earth." The first words found in the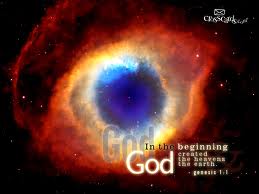 Bible begin with a story I find easier to believe than a tiny subatomic particle exploding and creating the entire universe and everything in it. I readily admit that math has never been my strong point. I believe it takes more faith to believe in the Big Bang than it does in God.
According to a May 2011 Gallup poll, more than 9 in 10 Americans still say "yes" when asked the basic question "Do you believe in God?"
Christian author, Robert A. Laidlaw, said, "God exists whether or not men may choose to believe in Him. The reason why many people do not believe in God is not so much that it is intellectually impossible to believe in God, but because belief in God forces that thoughtful person to face the fact that he is accountable to such a God."
As Laidlaw contemplated the perplexity of God, he said, "I have an innate conviction that God exists. No matter how my intellect had tried, in the past, to produce reasons proving He was not, or how much I had wanted to believe that there was no God, that 'still, small voice' came to me again and again, just as it comes to you, in the quiet of life's more sober moments. Yes, I knew that at least for me there was a God.
"True, there are some men who don't believe in God. But to me the problems of unbelief in God are greater than the problems of belief. To believe that unaided dead matter produced mind, that mind produced conscience, and that the chaos of chance produced the cosmos of order as we see it in nature, seems to call not for faith but for credulity."
George Gallup, the American statistician, said, "I could prove God statistically. Take the human body alone—the chance that all its functions would just happen is a statistical monstrosity."
Would you want to base your eternal future on a "statistical monstrosity?" Maybe that's why David said in Psalm 14:1, "The fool says in his heart, 'There is no God.'"
Need a speaker for your event? Contact the author at carolaround@yahoo.com.