"This, then, is how you should pray:"'Our Father in heaven, hallowed be your name, your kingdom come, your will be done, on earth as it is in heaven.'" Matthew 6: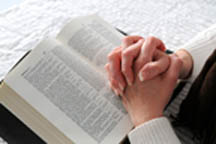 8-10 (NIV)
When they asked how, Jesus taught his disciples to pray. The Lord's Prayer, found in Matthew 6:8-14, reveals our Savior's heart. What does prayer mean to you? Do you think it's a mysterious practice reserved for the religiously devout?
Prayer is simply a conversation with your Abba Father. Minister and author, Josh McDowell, has this to say about prayer: "Prayer is talking with God. God knows your heart and is not so concerned with your words as He is with the attitude of your heart."
For some, even Christians, prayer has become an afterthought, done only while sitting in a church pew, at the dinner table or beside a child's bed before sleep. Sometimes, prayer is offered as a wish of one's heartfelt desire with expectations of God answering like a genie inside a magic lamp.
If you're seeking an intimate, powerful transformation in your relationship with God, then your prayer life must be more than asking for things. Praying is not just setting aside a special time to spend with Him; it is an ongoing conversation with Him throughout your busy day. While you are at work, eating, conversing with others, waiting for appointments or on the run from one place to another, you can be in prayer. Thank Him continually for the blessings in your life, even the difficult times. They help you to grow closer to Him.
However, starting the day with Him is vital for your spiritual growth. When I sit down with my Bible and prayer journal each morning, I am consciously choosing to give Him the first part of my day. It's the same principle as tithing. Giving Him the first fruits of your day reveals your priorities.
Prayer is a time to remind yourself that everything you are, and everything you have, comes through the power, grace and mercy of the one true God. Communion through prayer allows a deeper connection between His Word, His Holy Spirit and yourself, allowing seeds of faith to be firmly planted within your being.
How does a conversation with God begin? Get quiet. Seek a special place where you can open your mind, soul and spirit to what He has to say to you, both in that still, small voice, and within the pages of your Bible. Seeking Him requires you to listen more than you speak. Ask Him to reveal Himself to you. Remember what Josh McDowell said, "God knows your heart and is not so concerned with your words as He is with the attitude of your heart."
It's about your heart connection to the One who loves you more than life itself. We must remember that it's not about you and it's not about me. It's about God and His will. Then, you will realize that your prayers will touch the heart of the One for whom nothing is impossible.
More posts on prayer: