"How many are your works, Lord! In wisdom you made them all; the earth is full of your creatures"—Psalm 104:24 (NIV).
Smack. Hearing the sound, I knew immediately the source. I was sitting in my sun room, where I spend time with the Lord each morning. I had briefly glanced up from my Bible a few minutes before the sound and noticed several birds perched on the birdbath right outside the window.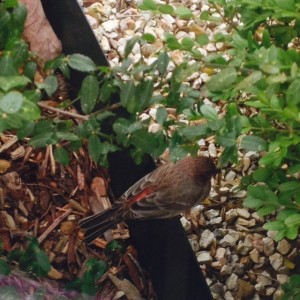 From the corner of my eye, I saw a bird fall to the ground. Jumping up, I peeked down at the flowerbed below. I could see a female cardinal shaking off the effects of her encounter with my glass window. Concerned about her, I continued to watch as she managed to hop up on the metal edging surrounding the bed. As she perched there, I observed her actions. She didn't seem in a hurry. I imagine she was trying to recover from her crash. She sat. She looked around. She remained in my flowerbed long enough for me to grab my camera and shoot photos of her through the glass pane, so clear it had fooled a bird.