"Create in me a clean heart, O God; and renew a right spirit within me"–Psalm 51:12 (NIV).
Spending several hours on my knees removing dead leaves from my flowerbeds reveals the perennial flowers starting to push up through the earth. Part of preparing my flowerbeds for spring planting also includes breaking or cutting off the dead portion of this new growth. For me, it is also a time of reflection.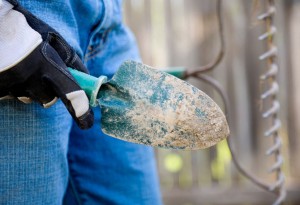 After experiencing a long, cold winter, I love the continual warm days at the end of March allowing me the opportunity to stick my hands in the dirt as I clean out the accumulated debris. Uncovering the new growth beneath it brings hope for a bounty of colorful flowers this spring and summer.
In one of my many flowerbeds is ivy planted several years ago. I don't recall the type but it's an evergreen able to withstand the harsh winters. As I worked to clean out this flowerbed, I noticed the ivy was beginning to take over, choking out some of my perennials. As I began trimming the ivy and carefully removing it from its death hold on my other plants, I started thinking about spiritual growth.
Although the ivy is not a weed, it had taken over my flowerbed. I think of the ivy as some of the good things in our lives, commitments we make and the things we choose that draw us away from quiet time with the Lord. In our society, when someone asks how we are, we often reply with the words, "I've been busy." I'm guilty too. We wear that phrase like a badge of honor.