"So they took branches from palm trees and went out to meet him. They shouted,'Hosanna! Blessed is the one who comes in the name of the Lord!'" —John 12:13(NIRV)
We observed Ash Wednesday last month with the tradition of placing ashes on our foreheads as a sign of repentance to God. Before we began, our pastor reminded us that the ashes were from the burned palm branches waved by the children in the 2011 Palm Sunday service. I was amazed at how the time had flown. Hadn't my grandchildren just joined with other children in the church to march into the sanctuary, waving their palm fronds and shouting, "Hosanna! Hosanna in the highest! Hosanna!"
In the gospel of John, the apostle tells us that Jesus was on His way to Jerusalem when the crowds met Him. As He rode into town on a donke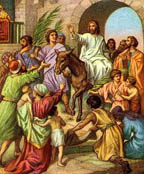 y, the crowds greeted Him with shouts of "Hosanna" and with the waving of palm branches. "Blessed is He who comes in the name of the Lord! Blessed is the King of Israel!"
Zechariah 9:9 foretold this day. "Rejoice greatly, Daughter Zion! Shout, Daughter Jerusalem! See, your king comes to you, righteous and victorious, lowly and riding on a donkey, on a colt, the foal of a donkey."
According to history, the donkey was domesticated in Mesopotamia. Used as a beast of burden and renowned for its strength, the donkey was normally ridden by nonmilitary personnel. However, scripture indicates riding a donkey was not beneath the dignity of Israel's noblemen and kings. 1 Kings 1:32-40 tells us David indicated His choice of Solomon as king by decreeing  that the young man should ride on the king's own mule.
Jesus didn't ride into Jerusalem on a war horse but on a lowly beast of burden. While the people, including the disciples, didn't realize the significance of this fulfilled prophecy at the time, the symbolism behind His choice of transportation should not be forgotten today. The Prince of Peace, who came so we all might find peace and rest in His sheltering arms, chose a lowly animal to help announce that He is the Messiah.
How many place hope in the next election, praying that a chosen candidate will lead our government and get us out of this mess? Why do we keep looking for a great military leader to ride in on a stallion and save the day? How many look to man to help them escape from the problems we have all helped to create? Things are no different today than they were when Jesus rode into Jerusalem that day over 2,000 years ago.
Our Savior didn't come just to liberate us from our worldly adversaries, He wants to free us from all our enemies, from the root of all our problems—sin, evil and death itself. He came to challenge our values and our notions of dominion in every way. So, what are we to do with a Messiah who came in peace, humility, and riding on a lowly donkey?
Can you shout, "Hosanna?"