"I know, my God, that you test the heart and are pleased with integrity"— 1 Chronicles 29:17 (NIV).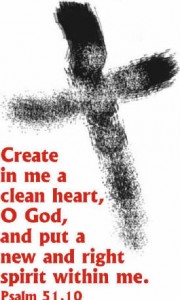 Even more than Christmas, I love this time of year, especially the traditions we observe in my church. On March 5, we recognized the beginning of the Lent season on Ash Wednesday. Lent, while not observed by all denominations, is a time when many Christians prepare for Easter by observing a period of fasting, repentance, moderation and spiritual discipline.
Observing Ash Wednesday at a special evening service in our church includes an invitation by our ministers to come forward and receive ashes made from palm leaves, which had been part of our Palm Sunday celebration the previous year when children carried them into the service. Our ministers make a sign of the cross on our forehead to symbolize purification and sorrow for our sins.
Several weeks before Ash Wednesday, I was experiencing a spiritual dryness. I hadn't given up on my spiritual disciplines. I was still reading and studying my Bible each morning, praying and writing in my prayer journal and spending time listening for that still, small voice. I couldn't understand why I wasn't hearing as clearly from the Lord. The weekend before Ash Wednesday, as I was reading the last few chapters of Chronicles, I came across Chapter 29:17. "I know, my God, that you test the heart and are pleased with integrity."