"God is our refuge and strength, an ever-present help in trouble"— Psalm 46:1(NIV).
For my first 16 years, I lived in Louisiana where preparing for a hurricane meant boarding up windows, stockpiling fresh water and non-perishable goods, checking the first-aid kit and having other necessities on hand. Residents were urged to have an evacuation route before the storm hit.
After moving to Oklahoma, it became necessary to prepare for another type of storm—a tornado. With a tornado, the window of opportunity to prepare is not as wide as it is with a hurricane.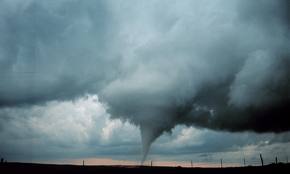 Therefore, a different plan of action is required. While an emergency kit and a family communications plan are encouraged, one must be constantly alert to changing weather conditions. Tornadoes can spawn rapidly so advance warning is crucial.
While it's important to be prepared and to know what to do in case of an emergency, unexpected catastrophic events can occur without warning. We think our lives are running smoothly when an unpredictable storm leaves a path of destruction and suffering behind.  Life's storms can come in the form of a cancer diagnosis, job loss after years of being a faithful employee or unexpectedly losing a loved one in an automobile accident. Living with someone who has a drug or alcohol addiction, the death of an elderly parent, having a child diagnosed with an incurable disease or experiencing the death of a spouse can shake up our world, leaving us grasping for hope.
We have a checklist to prepare for natural disasters. But what about a life storm? Are you spiritually prepared to weather the storms that come your way? Being spiritually grounded means we can face calamity with a peace passing rational understanding. Even in the midst of pain and suffering, having the right resources to guide us through the storm will result in calm.
How do we spiritually prepare? By spending time in conversation with God each day, listening for His voice, we will naturally turn to Him in prayer in the midst of any emergency. Prayer brings comfort and peace, sustaining us when we need it the most.
Second, having knowledge of scripture helps bring solace in times of trouble and can be an important tool during times of darkness in our lives. My favorite is the 23rd Psalm. Another is Romans 8:38-39: "For I am convinced that neither death nor life, neither angels nor demons, neither the present nor the future, nor any powers, neither height nor depth, nor anything else in all creation, will be able to separate us from the love of God that is in Christ Jesus our Lord."
Finally, to be spiritually prepared for the storms of life, we need to participate actively in a community of faith. By worshipping on a regular basis and investing in the church with our financial gifts, time and talents, we have a family of faith to support us in times of trouble.
When we are spiritually prepared, we can say confidently, "God is our refuge and strength, a very present help in trouble."