"It is for freedom that Christ has set us free. Stand firm, then, and do not let yourselves be burdened again by a yoke of slavery"—Galatians 5:1 (NIV).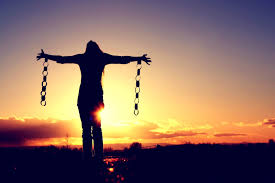 https://thepreachersword.com
To most Americans, the word freedom connotes images of the American flag. We associate July 4 with the freedoms we've been granted by the U.S. Constitution. We celebrate our country's independence with fireworks and parades.
According to dictionary.com, freedom means "the state of being free or at liberty rather than in confinement or under physical restraint."
Physical freedom is denied those locked behind prison walls. But those who have discovered a relationship with Jesus while in prison will tell you they are, indeed, now free, in spite of the iron bars they peer through each day.
Only Christ can set us free.
Found throughout the Bible, the word, "freedom," is familiar to those who've read God's Holy Word. John 8:32 says, "And you will know the truth, and the truth will set you free."
In an article by Roger Olson, he writes, "Unfortunately, two very different ideas of freedom get confused in many people's minds. The biblical idea of freedom is different from, but easily confused with, the cultural value of the same name. And neither one is the same as "free will." It can be confusing to the average Christian who wants to know what "real freedom" is. Is it having choices? Is it lack of coercion and constraint? Is it being able to do whatever you want? In what sense does Christ set us free, and how is that different from what Madison Avenue and Hollywood promise?