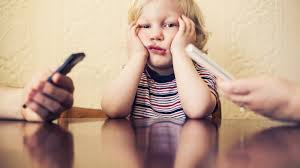 http://www.npr.org
Do you think it pleases our Heavenly Father when we spend more time on our cell phones than we do in scripture? Think about it this way. Does it please you when others ignore you because they're too busy answering text messages, posting on Facebook or Instagram or answering emails on their electronic devices?
Well-known author and Bible teacher Beth Moore puts it this way: "Our devices have become our vices. We've lost the art of reading and meditating on the Word.
"Our cell phones have become an addiction," she adds. "While they are supposed to connect us, we've become disconnected. We are the body of Christ, but we are living disembodied lives."
Recently, I attended Beth's yearly simulcast. Focusing on Colossians 1:1-2:9, she talked about what pleases God.
In Chapter 1, verses 10-12, the Apostle Paul writes, "Then the way you live will always honor and please the Lord, and your lives will produce every kind of good fruit. All the while, you will grow as you learn to know God better and better. We also pray that you will be strengthened with all his glorious power so you will have all the endurance and patience you need. May you be filled with joy, always thanking the Father. He has enabled you to share in the inheritance that belongs to his people, who live in the light."