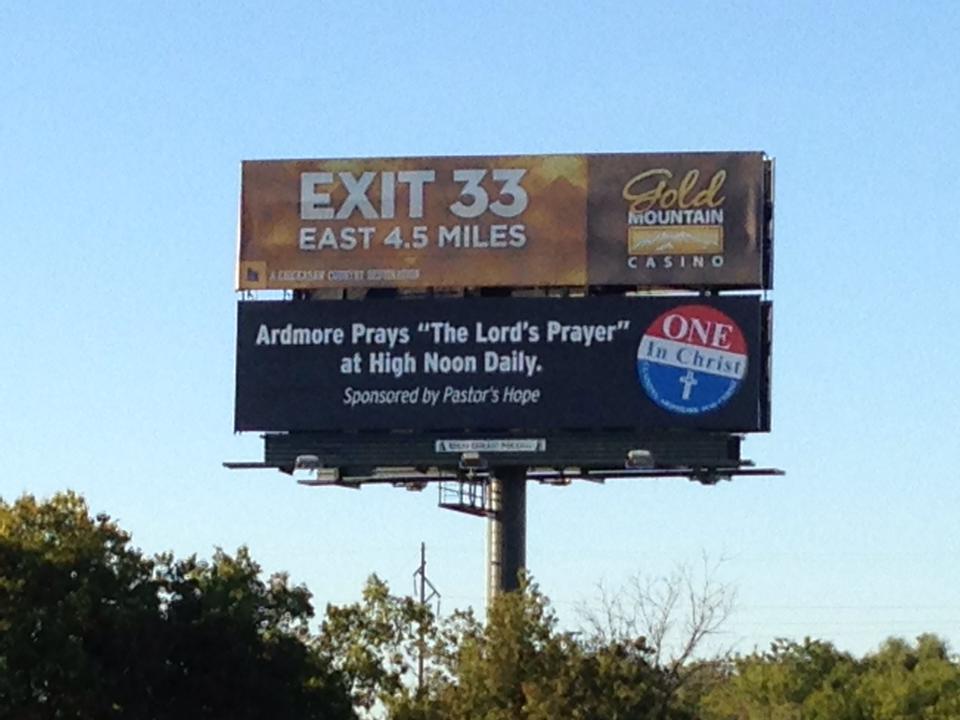 "In this manner, therefore, pray: 'Our Father in heaven, Hallowed be Your name. Your kingdom come. Your will be done on earth as it is in heaven. Give us this day our daily bread. And forgive us our debts, as we forgive our debtors. And do not lead us into temptation, but deliver us from the evil one. For Yours is the kingdom and the power and the glory forever. Amen'—Matthew 6:9-13 (NKJV).
If you enter Ardmore, Oklahoma off I-35 near the 12th street exit, you'll see a billboard on the west side of the road. Facing south, the billboard proclaims, "Ardmore Prays 'The Lord's Prayer' at High Noon Daily." Sponsored by Pastor's Hope, the billboard's message has become a mission for the Senior Pastor of First United Methodist Church Ardmore. After hearing Dr. Terry Teykl speak at an August 17 prayer workshop, Jessica Moffatt Seay was impressed by the Holy Spirit to encourage others to begin praying The Lord's Prayer at high noon.
Dr. Teykl, national prayer teacher and author of 18 books related to prayer, founded "Pray Down at High Noon" with a goal of raising up a million people worldwide who pray the Lord's Prayer at noon every day. So far, 800,000 have signed up to participate.