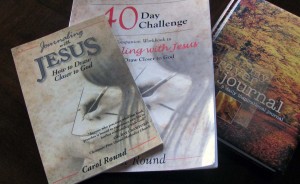 "Draw near to God, and he will draw near to you" James 4:8 (NRSV).
Do you desire a deeper prayer life? Why not dedicate Lent 2013 to trying a new spiritual discipline: prayer journaling? I have been keeping a prayer journal for more than 10 years.
If I could choose the most important differences in my life since I began keeping a journal each morning, it would be the following:
A peace like no other

. When my world and the world around me is in turmoil, I know where my peace comes from.

The knowledge of who I am and whose I am

. I spent most of my life living up to other people's expectations. Now, I live for Him.

Contentment with who I am and what I have

. Many of us live our lives in discontent and seek things outside of God to satisfy that longing that can only be filled in a relationship with Him. Material possessions will never satisfy.
For a limited time, until February 28, purchase a copy of "Journaling with Jesus: How to Draw Closer to God," and the companion workbook, "The 40-Day Challenge," for only $23, which includes postage. Contact me at carolaround@yahoo.com to find out how to get your copies.
For more information about my book, check out http://journalingwithjesus.com/about-the-book/ and read more about the benefits of prayer journaling by checking the archives to the right.
"If a journal answers one question, it is
'What is God doing in my life?'"
–Jan Johnson, author of
Enjoying the Presence of God