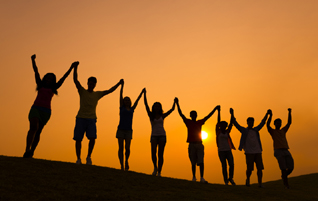 unityoffortmyers.org
These people are not drowning today!" This thought entered Jessica Simmons' mind when she watched as six members of a single family struggled after a powerful riptide had swept them away at a Panama City Beach.
Others had tried to reach the family in trouble, but each previous rescue attempt left more people stranded. A lifeguard was not on duty. A rescue boat had not yet arrived. People began to use boogie boards, surf boards and their arms and legs to attempt a rescue.
When someone shouted, "Form a human chain," five people volunteered, followed by 10 more. Then dozens more joined as the rescue mission grew increasingly desperate. Simmons and her husband, Derek, swam past the 80 or so human link and headed for the stranded swimmers. The couple managed to reach the children first, passing them via the human chain toward the beach.
Nearly an hour later, through the efforts of the growing human chain, linked together with wrists, legs and arms, the last of the 10 stranded swimmers were rescued. One of the adults rescued said, "It actually showed me there are good people in this world."
Whether all of the rescuers that day were believers or not, their selfless act should be an example to everyone. Through their unified actions, 10 people are still alive.