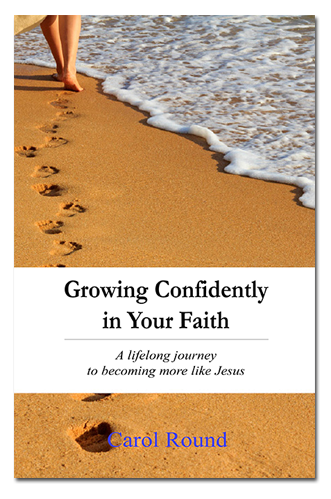 Do you want to grow more confident in your faith? In Carol Round's latest book, "Growing Confidently in Your Faith: A lifelong journey to becoming more like Jesus," the author brings the principles and teachings of Jesus into our lives with practicality so readers can apply them to their daily lives. With depth, the author shares the truths of God's Word in a manner that will pierce through doubt, shame and pain. She leaves you with a comforted heart and a real hope for the future. You will walk away each week with greater inspiration, wisdom and peace as well as a greater understanding of God's love for you and how He walks us through every hurt and pain, turning them to victory for His glory.
Purchase Growing Confidently in Your Faith through Amazon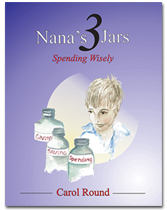 Charlie has a dilemma. Christmas is approaching and he wants to give his teacher a special gift. He's been saving his money to purchase a present for Miss James but until he and Emma make a trip to visit Nana, he isn't quite sure what he will do. Join Charlie and Emma as they learn more about the third jar — spending wisely — and why it's just as important as the giving and saving jars. "Nana's 3 Jars: Spending Wisely" is an interactive book for adults to read and then make hot chocolate mix with children using the recipe in the back of the book. It is the third and final book in the "Nana's 3 Jars" series.
Purchase Nana's 3 Jars: Spending Wisely through Amazon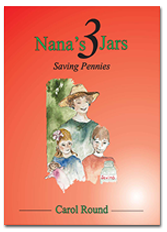 Charlie and Emma are excited. Another day with Nana in the country provides a day for the siblings to learn about saving pennies through visiting a Farmer's Market where they purchase apples. After returning home, they learn about the simple pleasure of making homemade applesauce with their grandmother. Join Charlie and Emma as they learn about the second jar—saving pennies—and why it's fun to save money. Nana's 3 Jars: Saving Pennies is an interactive book for adults to read with and then make applesauce with children using the recipe in the back of the book. It is the second in the series with the third book scheduled for a 2015 fall release.
Here's a sample of what are readers on Amazon.com saying about Nana's 3 Jars: Saving Pennies:
A visit to the Farmers Market with Grandma
Who wouldn't want to go visit this grandma and venture with her to the local Farmers Market? Emma and Charlie spend time with their Nana and learn valuable lessons about saving and giving. Along with a cute story, the book is filled with lovely illustrations. At the end, the children learn how to make applesauce with fresh produce. A recipe for this treat is included. A brief history about Farmers Markets and the advantages to shopping at them is also included at the end. A highly recommended book! — Alice J. Wisler
Positive Lessons for Little Ones 
Christian Author Carol Round has done it again – created a sweet story with a positive life lesson. I love to give my grandchildren books that teach as well as entertain. The bonus is showing them how to have fun with their grandmother (me). This is a five star children's story with lovely illustrations.–Dorothy Willman Cummins
Purchase Nana's 3 Jars: Saving Pennies through Amazon

Charlie and Emma are excited. A day spent in the country with their Nana turns into an opportunity to learn about the joy of giving when they make chocolate chip cookies to hand out to veterans at a local center. What does Charlie do when he runs out of the homemade treats before the last veteran gets one? Join Charlie and Emma as they learn about Nana's 3 Jars and why the 'giving' jar is extra special. "Nana's 3 Jars: Giving Generously" is the first in a series of three books for children to teach them about the value of money and its purpose. This interactive book will open a dialogue with your child or grandchild about money and about sharing with others.
Here's a sample of what are readers on Amazon.com saying about "Nana's 3 Jars: Giving Generously"
Lessons for all ages: "A visit to Nana's house in the country is the start of a marvelous adventure for Emma and Charlie who receive a precious lesson in giving and saving. From putting aside the coins in the saving jar for rainy-day repairs to dropping money in the giving jar for ingredients to welcome new neighbors with a pie and giving gifts that aren't tangible, children and caregivers will see this new light on what it means to share. Lavishly illustrated in full page washed-color illustrations. Includes the recipe for chocolate chip cookies and downloadable, copy-able labels." – Lisa J. Lickel
Generosity Easily Understood: "Nana's Three Jars by Carol Round is a delightful interactive picture book that presents generosity/giving in an easily understood format. The interactive activities bring the concept from the abstract to the concrete. As children do, they build background experiences essential for understanding. It is an excellent way to encourage giving as a way of life. The artwork is sweet and appealing." – Carol A. Brown
Purchase Nana's 3 Jars: Giving Generously through Amazon

Carol's book, Journaling with Jesus, How to Draw Closer to God, was inspired by Carol's own experiences as well as others who have found the spiritual discipline can become habit-forming. Keeping a prayer journal is one way to stay focused on growing your personal relationship with your Creator. Journaling your prayers to Him can help change you from knowing about God into someone who experiences God in a deeper way.
"Journaling with Jesus is beautifully penned from the first word to the last, and gives adult readers an opportunity to see the power of prayer while they are developing a more intimate communication with God."  Kathryn E. Jones

"Some might choose to read Journaling with Jesus in one sitting. I found taking this book in chunks or small bites works quite well. It gives the reader time to ponder the various Scriptures given and ideas offered. No matter which way you choose to experience this book, do read it. It is well worth the time invested."  Patricia O'Neal
Purchase Journaling with Jesus through Amazon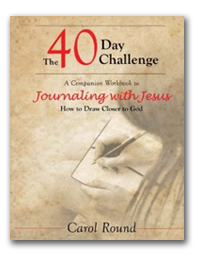 The 40 Day Challenge is a companion workbook to "Journaling with Jesus: How to Draw Closer to God," which challenges readers to try prayer journaling for 40 days. The workbook, as the title says, is a 40 day challenge with each day including a scripture, thoughts about that day's challenge, a short prayer to our Abba Father, blank lines to write your own love letter to God and a follow-up "faith step" to take on your journey to know Him better.
I highly recommend this workbook as a wonderful way to get started and continue the practice of getting to know God through journaling.  Kimberley Payne

Tucked inside by FAITH alone are the musings of a woman who has a heart to know God. Carol Round sees the everyday events of life through the lens of Scripture and points out life application for her readers. Each devotional provides inspiration in a thought-provoking, upbeat, down-to-earth, no-nonsense way.

"In these troubling times, Ms. Round's writing offers readers an inspirational lift through hope in our Lord. Without preaching, she uses everyday experiences to draw readers closer to our Heavenly Father in an upbeat style and without sugarcoating a believer's walk with God."  Dan Wooding, founder of ASSIST News Service (www.assistnews.net), author of 45 books, radio and TV host
Purchase By Faith Alone through Amazon



In this second collection of her columns, Carol uses everyday experiences to encourage her readers to seek a deeper relationship with the Lord. In Faith Matters, readers will find her down-to-earth sharing of real life and her Christian walk woven into each daily devotional.
"Ms. Round has the nice ability to meld Biblical inspiration with everyday humility to see new wonders of living through our Lord, Jesus Christ." 
Professor Donald Mitchell, Amazon.com Top Reviewer
"Ms. Round's comforting writing style is soothing and her sage advice is enlightening."
The Rebecca Review, Amazon.com Top Reviewer
Purchase Faith Matters through Amazon



A Matter of Faith, Carol's first book, released by Buoy Up Press in 2008, is a collection of her faith-based columns. This book can be used as a daily devotional.
"Your words are appreciated and your authenticity profound. Keep sharing your conversations with God with the world."  Cheryl LaFortune

"I read your book from cover to cover when I first received it. You have blessed my life. I respect and appreciate you beyond words I am capable of writing. God bless you always!"   Steve Spicer

"Such a powerful message in a very confused hurting world. You make a difference. God bless you!"  Jennifer Kirby
If you would like to purchase an autographed copy directly from the author, go to the Contact Page.