Let's Help Matthew Bring His Buddy Home
"The King will reply, 'Truly I tell you, whatever you did for one of the least of these brothers and sisters of mine, you did for me'"–Matthew 25:40 (NIV).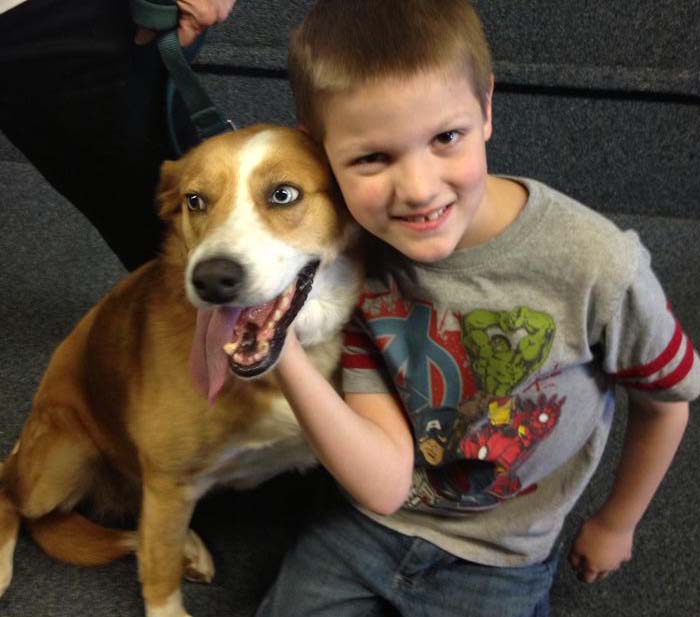 Matthew and Levi, the service dog that is being trained to provide for his special needs.
Matthew needs your help. A third grader at Claremont Elementary School in Claremore, Oklahoma, Matthew is suffering from various health issues, including the inability for his body to properly regulate temperature. "A service dog will help monitor and notify him and others, should he begin to get dangerously overheated," says his mother, Angy Bains.
Matthew also has Aspergers Syndrome, which is on the Autism spectrum, and affects language and behavioral development. He also suffers from a variety of other health issues, among them, Ehlers Danlos Syndrome, which is a group of disorders affecting connective tissues, such as those which support the skin, bones, blood vessels and other organs.
When Matthew's parents learned that a service dog could be trained for Matthew to recognize the signs of overheating, the family began their fundraising efforts. Matthew has already selected his dog, Levi, which is being trained through Glad Wags Service Dogs of Tulsa, Oklahoma.
"The cost is around $10,000 and we're a long way from being there," says Angy.
To help raise the funds, his mother has set up a "go fund me" account at http://www.gofundme.com/mattsbuddy.
If you live in the Claremore area, a chili dinner, silent and live auction as well as children's authors will be helping with his fundraising efforts. The chili dinner is set for Saturday, March 28, beginning at 5 p.m. at Claremore FUMC, on HWY 88, just north of the Will Rogers Museum. Come out, eat a bite of chili, bid on auction items and buy a children's book to support Matthew or go to his "go fund me" account and donate online.
Note to my readers: I am friends with Angy and Matthew. If you would please click on the link above and donate any amount you can to help Matthew pay for Levi and bring his buddy home, I know he will not only be blessed, but you will too! Jesus tells us, "Truly I tell you, whatever you did for one of the least of these brothers and sisters of mine, you did for me."