Carol's Latest Release
The companion workbook to Journaling with Jesus:How to Draw Closer to God is now available. You can purchase The 40-Day Challenge through the author or at amazon.com.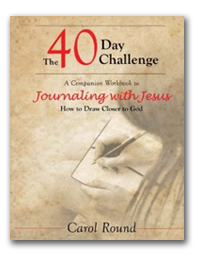 Are you as close to God as you would like to be? "The 40 Day Challenge" is a companion workbook to "Journaling with Jesus: How to Draw Closer to God," which challenges readers to try prayer journaling for 40 days. The workbook, as the title says, is a 40 day challenge with each day including a scripture, thoughts about that day's challenge, a short prayer to our Abba Father, blank lines to write your own love letter to God and a follow-up "faith step" to take on your journey to know Him better.
Released in February 2012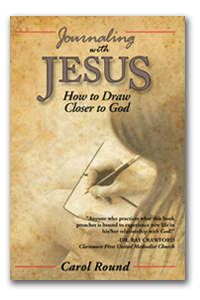 Carol's book, Journaling with Jesus, How to Draw Closer to God, was inspired by Carol's own experiences as well as others who have found the spiritual discipline can become habit-forming. Keeping a prayer journal is one way to stay focused on growing your personal relationship with your Creator. Journaling your prayers to Him can help change you from knowing about God into someone who experiences God in a deeper way.
"The initiative of God to restore relationship with every person requires our engagement. The age-old battle to create space to spend time with Him can be supported by the spiritual discipline of keeping a journal. Carol Round understands this. I encourage your pursuit of this commitment as you read Journaling with Jesus."
—Steve Laswell, author of The Journey—A Personal Journal
Order Journaling with Jesus from the Publisher, or through Amazon.

Also Available!
A Matter of Faith, Carol's first book, was released by Buoy Up Press in 2008. In 2009, the same publisher released her second volume, Faith Matters. Both books are a collection of Carol's faith-based columns from November 2005 through July 2009.
Each book retails for $12.95 plus shipping and handling. You can purchase either books at Amazon.com.
You may also purchase A Matter of Faith or Faith Matters  directly from my publisher. You may also purchase the volumes directly from the author by using the Contact Page, where you can save money by purchasing both volumes for $20.
Autographed copies are also available.
"Such a powerful message in a very confused hurting world.You make a difference. God bless you!"Jennifer K.
"I read your book from cover to cover when I first received it. You have blessed my life. I respect and appreciate you beyond words I am capable of writing. God bless you always!"
Stephen S.