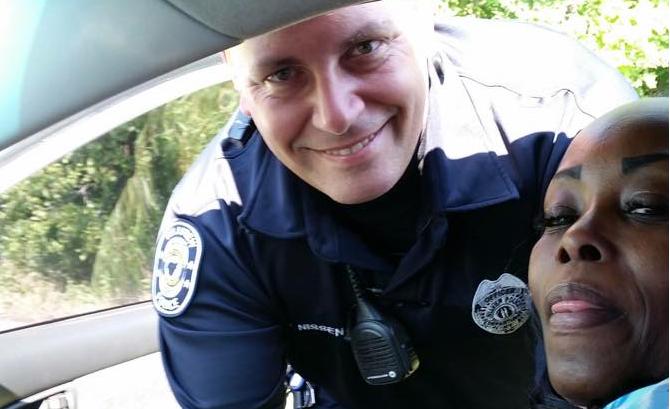 https://www.inquisitr.com
During a 911 response last month, Kentucky police officer John Nissen went beyond the call of duty. On July 24, the veteran cop of more than 17 years, and his partner-in-training, received a dispatch call concerning a distressed female motorist, according to Fox News. Barbie Henderson had pulled over on the side of a Hillview, Kentucky highway.
"All we knew from the dispatch," says Nissen, "was there was a crying woman who needed help in her car."
When the officers approached Henderson's vehicle, she opened the door for them. "We could see she was visibly upset," said Nissen. "She told us her sister had passed away."
Henderson said she was "upset, screaming and hollering" upon receiving the news of her sister's passing while she was driving. "My first reaction was to call 911," she explains.
After talking to Henderson, Nissen asked if he could sit with her. "I wanted to talk to her and see if I could get her cooled down a bit," he said. "I turned the air vents towards her—it was over 90 degrees that day—held her hand, and she cried on my shoulder. I also had her take sips of water."
Staying over an hour with Henderson, Nissen calmed her down and made arrangements for a nearby family member to pick her up. "I wanted her treated the way I would want my family to be treated if they needed help," he added.
Arriving on the scene, Henderson's sister was amazed by the officer's kindness. She took a photo of the two and sent it to the Hillview, Kentucky Police Facebook page.
"Officer Nissen was more than an officer yesterday," wrote Shonda Barlow Garner. "He was a person with a heart to understand this was a lady who just lost her sister and heard the news over the phone. From there on, he took care of my sister…What an awesome guy!"
Garner said Officer Nissen was more than an officer to her. "He was family," she added. "I mean, he was the one who sat there with Barbie when she was crying about losing our sister."
In humility, Officer Nissen replied to the publicity his act of kindness has received. "I didn't know this story would take off. I was just trying to show the officer I was training that some compassion can go a long way."
"People don't have to be nice and people don't have to be kind," said Garner. "People don't have to be compassionate, nor do they have to care.""All it takes is kindness to change people's lives," said Nissen.
But isn't that what God calls Christians to do? Micah 6:8 is a reminder, "He has told you, O man, what is good; And what does the LORD require of you But to do justice, to love kindness, And to walk humbly with your God?"
I always love hearing from my readers. What do you think about Officer Nissen's kindness?