"…let us draw near to God with a sincere heart in full assurance of faith, having our hearts sprinkled to cleanse us from a guilty conscience and having our bodies washed with pure water."  Hebrews 10:22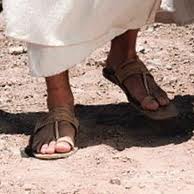 Can you imagine what it would be like to sit down and have a one-on-one conversation with your Savior? Can you picture yourself sitting together on a carpet of clover near a small mountain river? No one is around to interrupt your dialogue. The only sounds are of the water as it flows on its course downstream, the occasional rustling of the grass as a forest creature timidly checks out the intrusion in his world and the call of a bird seeking its mate.
What would you discuss? What questions would you have? What would He ask you? How long would He be able to spend time with you before He had to move on?
One of the hymns I recall from my childhood is "In the Garden," by Charles Austin Miles. The refrain dances through my mind when I think about spending time with Him.
And He walks with me,
And He talks with me,
And He tells me I am His own,
And the joy we share as we tarry there;
None other has ever known.
It is a joy to spend time with my Savior. Although I cannot physically walk through the garden or sit by a stream to talk with Him, through prayer journaling, I have found a way to draw closer to Him.
I have been keeping a prayer journal for over ten years. When I reread some of my earlier journal entries, my spiritual growth is evident. Many of my prayers were not answered, and as the words of Garth Brooks' song says, "Thank God for unanswered prayers."
Journaling has made me more aware of His presence as well as what He wants from me. More than anything, my Abba Father wants a personal relationship based on trust. Imagine being able to communicate your hopes, your thoughts and your feelings more clearly to your heavenly Father. Prayer journaling can do that once you make it a daily habit.
I challenge you to try prayer journaling for 40 days and experience a more intimate relationship with your Savior. Once you start, I know you will feel compelled to keep your daily appointment with Him.
Email me at carolaround@yahoo.com and I will send you a covenant to sign with God to commit to the 40-Day challenge which begins on March 5, the first day of Lent. Let prayer journaling and a desire to draw closer to your ABBA Father be your commitment for this season.