"Set your minds on things above, not on earthly things"—Colossians 3:2 (NIV).
"This is so much fun, Nana." My granddaughter, Cheyenne, was referring to the large box I had saved for my grandchildren when I purchased a new living room chair. During a recent visit, they turned the box into a house, complete with a chimney, doors and windows with shades. Using tape, markers and scissors, they transformed a plain box into a magical place to hide from the world.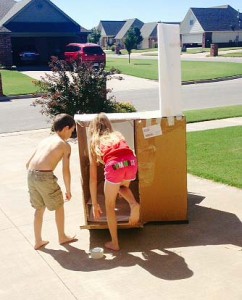 I didn't give advice nor did I help. The fun was in using their imaginations to create something special from an ordinary object. My grandchildren spent two hours playing inside and outside the transformed cardboard box before they had to go home. I've never seen them play that long with a store-bought toy.
Like many, I was displeased by the appearance of Christmas décor on store shelves before September ended. Walk in any business selling holiday decorations and you'll most certainly see Halloween pumpkins and scarecrows vying for shelf space next to Santa Claus and his elves. What happened to Thanksgiving? I've complained (in my column) about this topic every year. Doesn't do any good to complain. The commercialism won't stop. However, I decided to join them.
No, I'm not jumping on the bandwagon. Instead, I wanted to get an early start myself by encouraging parents and grandparents to reconsider how much they spend on Christmas toys. At our recent church missions' garage sale, I was amazed, once again, at the number of toys, along with other merchandise, our members had donated. Some of the toys were like new. While our garage sales are for a worthy cause, it still astonishes me at the amount of "stuff" we have. I'm not just talking about our church members either. I believe we're all guilty of overindulging ourselves and our loved ones.
Living in today's fast-paced world, we sometimes forgo quality time with our loved ones. Feeling guilty, we try to make up for it by expressing our affection with a price tag. However, stuff cannot replace the memories we make together.
In an experiment conducted by two German public health workers (Strick and Schubert), a kindergarten class was convinced to remove all classroom toys for three months. Although the children were bored during the initial stages of the experiment, they soon began to use their basic surroundings to invent games and use imagination in their playing.
Buying fewer and less costly toys at Christmas and using the money to help others is also another way to demonstrate to our children the value of being unselfish. When my sons were younger, we would select a needy child's name from the Angel Tree at a local store. Picking out the gift together, making the purchase and leaving it for the child who might not otherwise have anything to unwrap on Christmas morning taught them a lesson in giving.
What lesson do you want to teach your children and grandchildren? I think Colossians 3:2 might be the best answer.