"Jesus Christ is the same yesterday, today, and forever"—Hebrews 13:8 (NIV).
Many changes have taken place in the landscape of our community lately. A new courthouse constructed, city streets widened and improved, businesses have closed and new ones are emerging each day. I've watched during the eight years I've lived here as things have changed.
I've read complaints online and in the newspaper concerning these changes. While some welcome them, others prefer a predictable life. Change is inevitable. Change is constant.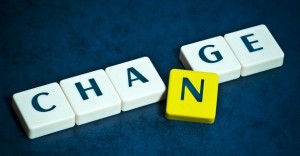 When we refuse to accept changes over which we have no control, we can end up on a dead end street of our own making.
Sometimes change happens suddenly—the unexpected death of a loved one, an accident leading to permanent health changes, a job loss from a 30-year career or having to declare bankruptcy because of mounting medical bills. The list could go on but change can be quick and disrupt our lives so the world we once knew is gone.
Author and Pastor Chuck Swindoll said, "We cannot change our past. We cannot change the fact that people act in a certain way. We cannot change the inevitable. The only thing we can do is play on the one string we have, and that is our attitude."
Our attitudes toward change reflect what's going on in our hearts. I like what Pastor Warren Wiersbe says. "Real contentment must come from within. You and I cannot change or control the world around us, but we can change and control the world within us."
I admit I used to be a control freak. In fact, I was the poster child for control freaks. Until Jesus got His hands on me, I thought I could change others—their behavior, their attitudes, their choices. I have learned, however, change is an inside job requiring help from our Lord and Savior. He is the only one who can change us from the inside out.
However, as Christians, many times we are content to sit on the sidelines, hearing stories about how other people's lives have changed in a big way. We attend church and hear people share what God has been doing in their lives. We yearn for the same transformation so we attend events and conferences, hoping they will microwave us into a well-done Christian. Nothing extraordinary happens and we promise to try harder, recommitting our lives to Jesus. We try to spend more time with Him in prayer and devotions. After awhile, our excitement wanes. It has become a duty to spend quality time with Him each morning so we give up. Nothing has changed within us.
What's the difference? One word—obedience. When we live a life sold out for God, our attitude changes. Our hearts change. We begin to see life and people through the lens of faith. We seek opportunities to make a difference instead of being critical. His Word, His grace, His love changes us.
The world will change. Circumstances will change. However, God's Word never changes. And, if we are open to change, He will change us.