"The Lord is my shepherd, I shall not be in want. He makes me lie down in green pastures, he leads me beside quiet waters, he restores my soul"—Psalm 23:1-3 (NIV).
Daily routines. Technology addiction. Endless concrete. Confining cubicles. Cluttered minds. Sometimes we need to escape. That's what I did recently.
For several months, an overwhelming schedule of writing deadlines, book promotions and other commitments had left me drained. I didn't have anything else to give—at least without God's help.
Spending time in God's Word each morning and pouring out my heart to Him in a prayer journal kickstarts my day. Without this daily commitment, I couldn't accomplish my tasks. Throughout my busy days, I check in with my Heavenly Father because it's a reminder I can "do all things through Him who gives me strength."
However, my strength was waning. God was trying to tell me something but I was ignoring that still, small voice. I needed to run away. Not from God. You can't hide from Him.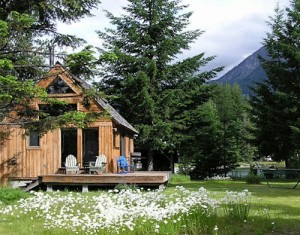 I needed a break from my self-imposed responsibilities. I wanted no distractions for at least a week. After searching online, I booked a secluded cabin on Lake Keystone. It met my need to escape temporarily from routine, technology and concrete, as well as my home office and a cluttered mind of my own making.
Although I took my laptop to work on my next book, I was not wired, meaning there was no access to the Internet. My early mornings at Bear's Glen started with a mug of hot tea on the deck overlooking the woods and nearby lake. During that time, I inhaled fresh air, along with a new awareness of my Abba Father. Later, with Bible, devotional and journal in hand, I continued the routine I never leave behind.
Before settling in for breakfast and several hours of working on my novel, my dog and I hiked through the woods. No traffic sounds. No technology. No confining office walls. Just God's simple but beautiful creation. Towering trees. Untainted air. Nature's quietness.
Other than the Lord and my dog, my only company was a doe and her fawn visiting the cabin each morning and again at dusk. We often stumbled upon the duo while hiking. I enjoyed watching the gentle creatures grazing nearby. I marveled at the graceful, delicate bodies, reminding me how wonderful and awesome is our Creator God.
The 23rd Psalm is one of the most well-known scriptures in the Bible. Written by King David, the imagery of this beloved psalm invites us to "lie down," to enjoy peace and quiet, to rest and revive in the midst of our harried lives—lives dominated by to-do lists, busy schedules and too many commitments. How do we respond to this invitation to slow down on our journey, to stop, rest and refresh?
God doesn't demand superhuman effort and impossible schedules. We do that to ourselves. However, sometimes we need restoration for our weary souls to renew our pilgrimage and follow Him for eternity.
When was the last time you escaped your busy schedule, technology and your to-do-list and spent time with God?