"Therefore, as God's chosen people, holy and dearly loved, clothe yourselves with compassion, kindness, humility, gentleness and patience"—Colossians 3:12 (NIV).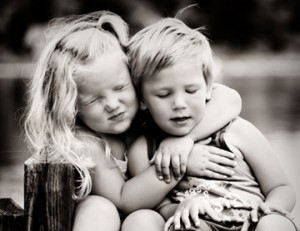 When I am away from my ten-year-old dog for several hours, he greets me at the door and lavishly covers me with kisses and a hug. Recently, my youngest grandson observed this ritual affection, and said, "Taco sure loves you, Nana."
I didn't have to teach my beloved pet to love me. Like God, he loves me unconditionally. Like God, Taco demonstrates his love and devotion in many ways, including the hugs I receive. How does a dog provide a hug when he has no arms to wrap around me? He tucks his head underneath my chin and leans his small body into mine.
An Internet search about the power of hugging turned up the story of a woman who lives in south India. Amma, which means "mother" in her native language, has dedicated her life to helping others through the simple gesture of a hug. At the writing of the article in 2007, Amma is said to have blessed and consoled more than 26 million people throughout the world. Many know her as "the hugging saint."
When people learn Amma is visiting in the area, they go out of their way to meet her. She seems to have tapped into a deep and essential need that we all have—a need for affection and the human touch.
"Love is not ordinary," Amma says. "Love is what sustains life. Whatever we do it is only to get love. There are two types of poverty in this world. The first one is, you know, financial. The second is poverty due to lack of love, the second one is more important. If we have compassion, we will automatically help."
Hugging not only helps the receiver but benefits the giver as well. While we take our mental and physical health seriously, trying to improve our daily lives with exercise, healthy eating and even supplements, we often overlook one simple thing that scientific studies have shown to be effective in keeping our heart and mental outlook healthy. It's the power of a simple hug.
Scientists have discovered that we are "hard-wired" to thrive as social animals. Further research reveals that daily hugs actually lower the output of cortisol, a stress hormone, and increases the two "feel good" brain chemicals, serotonin and dopamine.
A hug has been known to break down barriers when words cannot. We can bond with a hug and find comfort in this simple human interaction. This gesture towards another human being is easy and costs nothing but a simple act of caring and kindness.
My Internet search also revealed the following top ten benefits of hugging: costs nothing, boosts your immune system, builds self-esteem, fosters self-acceptance, alleviates tension, helps curb appetite, saves heat, is portable, requires no special setting or equipment and best of all, it feels great.
Who needs a hug from you today? Give one, get one. It's that simple.
Take "The 40-Day Challenge."  Go to www.carolaround.com and download your e-book today, available free until September 9. Email your comments to the author at carolaround@yahoo.com.