"Let your eyes look directly forward and your gaze be straight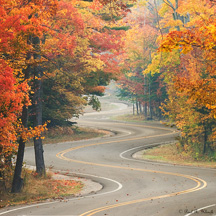 before you"—Proverbs 4:25 (NRSV).
At 20-25 miles per hour, I knew I would not arrive at my destination as quickly as I had planned. However, the slow pace up the mountain and around hairpin curves allowed me the luxury of enjoying the northeastern New Mexico terrain. Rolling down the car window, I inhaled the crisp air then exhaled a "Thank you, God," for His marvelous creation.
Pine and Aspen trees towered over streams tumbling over rocks and down the mountainside. My mind's eye snapped a photo memory. My hands were busy steering around and up through curves that threatened to meet in the middle. Later, I would have time to shoot photographs of the unfamiliar territory.
Have you ever found yourself in a place you never expected to be? I have. Do you think the disciples ever dreamed where their feet would take them when they dropped their fishing nets to leave family and friends behind to follow Jesus?
Being a follower of Jesus isn't easy. He asks us to surrender our to-do lists and the plans we've mapped out for our lives to do His will. As a recovering control freak, I've learned to give my list and my plans as well as my worries and fears to Him. While it didn't happen overnight, it has taken more than 10 years of trials, mistakes and wrong turns to make me aware of the importance of placing my trust in God.
Learning to trust God requires our participation in the growing process. While church attendance is important, even more crucial to our spiritual growth is seeking a personal relationship with our Savior. God won't force His presence on anyone.
Seeking His presence means spending time with Him. If we want to develop a meaningful relationship with anyone, it requires an investment on our part. It's a choice we make. Our focus and commitment determines whether we are moving closer to God or farther away.
Recently, a friend said, "When I have found my feet on unfamiliar ground, I realize it's because God put me there. That's when I depend on Him the most."
Many feel that depending on God is a sign of weakness. For those who refuse to accept and surrender to Christ, finding themselves on unfamiliar ground can be disconcerting.  However, those who place their hope and lives in God's hands find life an exciting adventure. I never dreamed of the places that God would take me when I began my journey more than 10 years ago. From overseas mission trips to a 10-day pilgrimage to the Holy Land, I have found myself on unfamiliar ground more than once.
We can't move forward, however, if our eyes aren't focused on Jesus, the author and perfecter of our faith. When our gaze remains on Him, we will find our feet walking on terrain we never expected to tread, trusting His guidance for each step we take and experiencing joys beyond our human imagination.
Take "The 40-Day Challenge."  Go to the link at top of this page and download your ebook today, available free until September 9. Email your comments to the author at carolaround@yahoo.com.