I am honored & humbled that Derrick Garland Coy, author of A Jamaican's Journey to Time and Patience, (http://dgcoy.me)  nominated m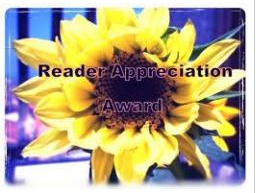 e to receive The Reader Appreciation Award. Mr. Coy is a Christian writer and entrepreneur who lives in Granada Hills, California with his wife, Diana. Born in Jamaica and educated in Jamaica, Hong Kong, and the United States, he is a world-traveler, former pastor, teacher, filmmaker, and business consultant. His book is a portrait of his multi-ethnic family whose African, Chinese, and European roots merge in Jamaica during the 1800s, then scatter across the globe in the mid 1900s, sending him on an odyssey to discover and fulfill God's call in his life, heal family wounds, and share Christ's message of redeeming grace and love. It's an encouraging story of learning to trust and obey God in the midst of hardships, setbacks, and failures.
There are a few guidelines for accepting this award: 1. Acknowledge the giver of the award and provide a link to his or her blog site. 2. Copy and paste the award to your blog. 3. Pass the award to up to ten bloggers. 4. Notify your selected bloggers that you have nominated them. Accordingly, I am nominating the following bloggers for The Reader Appreciation Award:
Allison Bottke (http://allisonbottke.com/)–Captivating readers and audiences with a mesmerizing tale of hope and healing, Allison is a bestselling inspirational author and speaker. With a powerful testimony of triumph over tragedy, her transparent vulnerability when addressing painful topics whether in books or on stage, enables Allison to connect with people in a very real and down-to-earth way.
Jenelle (http://www.singlemominspiration.net/) is a divorced single mother who is balancing work and motherhood on a daily basis. She has maintained a successful mix of the two by focusing daily on her Christianity and religious foundation through words of encouragement which has helped her through the difficult times. As a result, she created Single Mom Inspirations to provide that same inspiration to others that may be going through a divorce, single parents (and all parents) or just a general difficult time in life. She wants to provide encouragement, strength and inspiration to others based her experiences.
Lynn Dove (http://lynndove.wordpress.com/)–Lynn's blog, "Journey Thoughts" is the 2011 Winner of a Canadian Christian Writing Award in the blog series category. She writes about her daily journey walk with the Father.
Lisa Cooper (http://gotbible.blogspot.com/)–Lisa, also known online as Elementary History Teacher, lives in Georgia and writes primarily about history and history education for the weblogs, History Is Elementary and Georgia on My Mind. Her blog represents Lisa's love of learning for Biblical archaeology, geography and history.
Holly Gerth (http://holleygerth.com/)–When she's not in front of the keyboard, Holly loves encouraging women in other ways. As part of doing so, she says she's had the joy of cofounding (in)courage as well as Squee! Holly is also the best-selling author of  You're Already Amazing.
Tracy Crump & Marylane Wade Koch (http://www.tracycrump.com/TheWriteLife.html)–

You can sign up for

The Write Life

monthly e-newsletter and get short marketing or writing tips along with current story callouts for

Chicken Soup for the Soul

and other anthologies.

Roy Lessin (http://www.meetmeinthemeadow.com/roy-lessin/)–Roy is an active Bible teacher and co-founder of DaySpring cards. He has written numerous gift and devotional books. His blog is titled "Meet Me in the Meadow."
Lysa TerKeurst (http://lysaterkeurst.com/) Lysa TerKeurst is a New York Times bestselling author and speaker who helps everyday women live an adventure of faith through following Jesus Christ. As president of Proverbs 31 Ministries, Lysa has led thousands to make their walk with God an invigorating journey.

Rachel Olsen (http://www.rachelolsen.com/)–In addition to teaching, Rachel works with Proverbs 31 Ministries as a writer and speaker. For many years she served as Editor in Chief of Encouragement for Today, the ministry's online devotional. Now she's busy writing books and serving with the fantastic team at "She Reads."

John Kremer (http://blog.bookmarket.com)–John is the author of 1001 Ways to Market Your Book, which should be on the shelf of all authors and publishers. Actually, it should be in your hands, studying it for all the wonderful tips he gives his readers.
I encourage aspiring writers and readers to check out these blogs.