"But the plans of the Lord stand firm forever, the purposes of his heart through all generations"–Psalm 33:11 (NIV).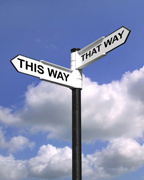 Have you ever been lost? I have. I am not only directionally challenged but can get lost with a GPS, especially if I ignore the "voice" giving me orders to go right or turn left. Our relationship with God can be just like that. We can get lost in the cacophony of a noisy world shouting, "Follow me. I've got all the answers," or "If you buy this gadget/book/pill, your life will be transformed in three easy steps."
 While following God is not always easy, His path is clear. Psalm 16:11 says, "You make known to me the path of life; you will fill me with joy in your presence, with eternal pleasures at your right hand."
 Determining God's path for my life only came after I surrendered my will to His. I did not invite Him to be the Lord of every breath I take until I was in my late 40s. I can still recall that peaceful fall afternoon in 2001 when I prayed aloud for the first time. My prayer follows:
 "God, please help me. I need some direction in my life."
 Since that day, more than 10 years ago, I have been seeking His guidance, His plans and His goals for my life. Have I gotten it right every time? No. However, my prayer journal entries reveal a woman who has grown closer to Him, a woman who has learned to trust that "still, small voice," that is often drowned by the outside world. That is why keeping a prayer journal has helped me to distinguish between the world's shouts and His quiet whisper, telling me to go this way or that.
 I recall a journal entry in July 2003 when I was considering a job change. Although I had been encouraged by friends to apply for the position, I was uncertain. I was only two years from retirement. However, the new job, if I got it, would mean substantially more money and a heftier retirement check. I was not afraid of change but I had been a part of the faculty for 28 years in the same school system. I didn't have peace about the change, even if others were encouraging me to apply.
 I did apply. On the morning of my scheduled interview, I read Proverbs 3:5-6 before journaling my prayer to God.
"With all your heart
you must trust the Lord
and not your own judgment.
Always let him lead you,
and he will clear the road
for you to follow."
Immediately, I felt a peace settle around my soul. Whatever the outcome of my interview, I knew God was in control. I praised God in my journal for making His presence known to me that morning. I didn't get the job. However, God's plans for me were much better than I could ever have imagined.
 If you're struggling with identifying His plans for you, try writing a letter to Him in a journal. Ask Him to show you the way. He will. You just have to trust that "still, small voice." He won't lead you astray.