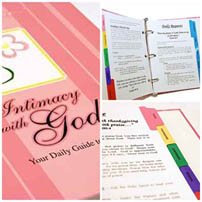 "Be joyful in hope, patient in affliction, faithful in prayer."                  –Romans 12:12

      For more than 10 years, I have sat down each morning with my Bible, a book of devotions and my journal to spend time with my Heavenly Father. This quiet time is God's time, the time I devote to communicating with Him. During our planned meeting, my focus is on Him. After reading scripture and devotion, I pour out my heart to Him in my journal. Whatever is on my mind or weighing heavily on me finds its way onto the blank pages. Inked on those lines are also words of affection for His character and His compassion.  My words of praise are whispers in His ear just as He speaks softly into my heart.
Why should you keep a spiritual journal? Here are seven reasons:
Documenting your prayers in a journal frees you to be more authentic with God. He knows your heart and thoughts anyway. If you look up the definition of authentic, you will find the following: genuine, real, not fake, reliable and trustworthy. Now, look up the antonyms or opposites of these words. You'll find these words: counterfeit, fake, false, unreal and untruthful. Do any of these words describe your relationships with others? With our

Heavenly Father

, we don't have to fake it. We don't have to prove we are worthy of His love. We just have to accept His wonderful gift of grace.
Looking back at your entries can help you trace your spiritual growth. Occasionally, I open the box containing my previous prayer journals. I am humbled when I read my earliest entries and then fast forward to the current year. It reaffirms for me that

God

cares for His children.
Keeping a daily prayer journal can help you understand the nature and will of God. However, it requires you to slow down and take time to listen for

His voice.

Keeping a daily prayer journal reminds you for whom and for what you need to pray. Your journal is also a place to record those things for which you are

thankful

.
Recording your prayers gives you a written record of them so that when you need encouragement, you can look back and see that God is always faithful, even when we aren't. It helps us to remember

God's power

displayed in our lives.
Prayer journaling forces you to take time on a regular basis to communicate with God and make sense of the craziness in your daily life. It helps you gain perspective on what is

important.

Journaling can be an accountability tool, allowing you to record your promises to God. Have you ever made a promise to God and then promptly forgotten because of life's craziness? I know I have. Using your journal as an accountability tool is not only a way to help record your promises but also a way to remind yourself of your

commitment to God

. He knows and forgives our forgetfulness. Use your journal to help you keep your promises.
I challenge you to try

prayer journaling

for 40 days! Will you take the challenge?